Washington, Oregon, Colorado, and Idaho residents tormented by wildfires
The west is having one of the worst wildfire seasons in decades. So far 6.4 million acres have burned, and on Wednesday Idaho residents were evacuated to avoid another massive wildfire.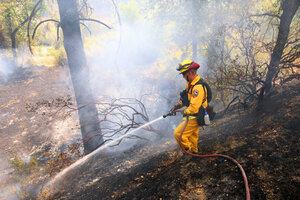 John Burgess/AP
Across the west, dozens of fires fueled by searing heat, dry weather and strong winds have added up to misery for weary residents who already are fed up with one of the region's worst fire seasons in decades.
On Wednesday, hundreds of residents of two small Idaho towns were packing their belongings and clearing out of the way of a massive wildfire burning in a gulch a few miles away and expected to hit town later this week.
Wildfires also tormented homeowners in Washington, Oregon and California, as arid conditions kept fire crews busier than usual across the region.
Jennifer Smith of the National Interagency Fire Center in Boise, Idaho, said not only are more wildfires occurring in the West this year than last, but the nation's fires have gotten bigger.
As of Wednesday, 42,933 wildfires had been reported in the US this season, burning 6.4 million acres. The 10-year average for this period is 52,535 fires but covering only 5 million acres, she said.
"Nevada has been hammered, and Idaho has some big ones that are going to burn until the snow falls," Smith said.
---