Ponderosa fire in Northern California forces evacuations
At least seven homes have been lost to a growing wildfire in the northern part of the Golden State.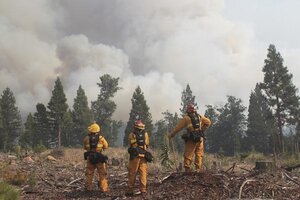 Andreas Fuhrmann, The Record Searchlight/AP
Firefighters in Northern California on Monday struggled to gain control of a growing wildfire that has destroyed at least seven homes and forced thousands of rural residents to evacuate.
The blaze that started Saturday has consumed more than 23 square miles near the towns of Manton, Shingletown and Viola near the border of Tehama and Shasta counties. It was only about 5 percent contained, according to the California Department of Forestry and Fire Protection.
The Ponderosa fire threatens at least 3,000 homes and more than 300 other structures, said fire spokesman Daniel Berlant.
More than 1,200 firefighters are battling the wildfire burning in rugged, densely forested terrain about 170 miles north of Sacramento. It started after the area was hit by a series of lightning strikes.
The fire forced the closure of Highway 44 and some local roads and prompted the sheriff to declare a State of Emergency for Shasta County. The Red Cross set up an evacuation center in Redding.
---