Obama will bounce between battleground states during GOP convention
President Barack Obama and Vice President Joe Biden will campaign in Iowa, Florida, and Virginia next week while the Republican convention is held in Tampa.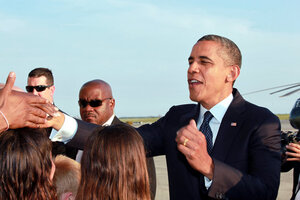 David Karp/AP
Trying to steal some of the spotlight, President Barack Obama plans to campaign in three battleground states next week as Republicans gather in Florida to nominate presidential candidate Mitt Romney.
Obama's campaign said Wednesday the president would hold college-themed events in Ames, Iowa, and Fort Collins, Colo., on Tuesday, the second day of the Republican convention. Obama was traveling to Charlottesville, Va., on Wednesday for a rally that will come hours before Rep. Paul Ryan's convention address.
Vice President Joe Biden was to visit Florida on Monday and Tuesday, including a stop in Tampa, the site of the GOP convention. First lady Michelle Obama, meanwhile, was scheduled to appear on "The Late Show with David Letterman" on the GOP convention's third night as part of a back-to-school media tour. Her late-night TV appearance that Wednesday will air shortly after Ryan's address and ahead of Romney's convention speech the following evening.
---