Katrina anniversary: Seven years later, Hurricane Isaac impacts Mississippi
Katrina anniversary is marked by the arrival of Hurricane Isaac, seven years to the day after Hurricane Katrina struck the US Gulf coast.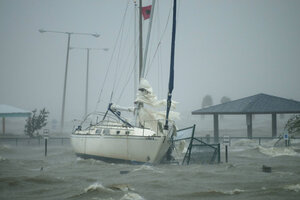 Michael Spooneybarger/REUTERS
The sun rose over the Mississippi Gulf Coast on the seventh anniversary of Hurricane Katrina to flooded and deserted streets and sporadic power outages. Wind whipped coastal communities like Bay St. Louis and Waveland and dumped heavy rain on the already soggy ground.
Thousands of residents in south Mississippi remained without power, officials said.
Power outage totals in Mississippi rose. Coast Electric Power Association said about 14,000 customers were without power early Wednesday. Singing River Electric Power Association also reported about 1,500 customers with the lights out, mostly in Pascagoula.
Mississippi Power Co. spokesman Jeff Shepard says about 3,600 customers were without power as of 5:30 a.m. CT. He said the majority of the outages were being reported in Biloxi.
He said Mississippi Power crews will begin assessing system damage at 6 a.m.
Entergy Mississippi officials said several hundred people were without power in scattered areas of south Mississippi.
Curfews were extended to noon in all three coastal counties — Hancock, Harrison and Jackson. Officials said road conditions were too bad for anyone to be out.
Hancock County Chief Deputy Don Bass said authorities rescued a Bay St. Louis resident from rising water early Wednesday.
---