Two health groups sue US for failure on food safety
In the wake of numerous food-borne illness outbreaks this year, two health and environment organization are suing the federal government for failing to protect the food supply.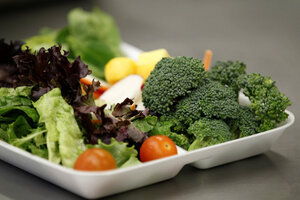 Mike Blake/Reuters/File
Two US health and environment organizations sued the federal government on Wednesday for what the groups say is a failure to implement and enforce a new food safety law that could help prevent thousands of deaths caused by food-borne illnesses each year.
The groups said government officials had repeatedly missed mandatory deadlines for issuing final regulations required by the Food Safety Modernization Act.
They are asking a federal court to order officials at both the U.S. Food and Drug Administration (FDA) and the Office of Management and Budget to force the agencies to start enforcing th law.
"President Obama says the passage of this bill is one of the hallmarks of his first administration," said Andrew Kimbrell, executive director with the Center for Food Safety, which is one of the plaintiffs.
The other plaintiff is the Center for Environmental Health. Both it and the Center for Food Safety are non-profit public interest advocacy groups.
Over the past year, the United States has had numerous outbreaks from food-borne illnesses tied to salmonella, E. coli and listeria. In July, food sickness was linked to cantaloupe.
About 3,000 deaths are caused by food-borne illnesses and about 48 million people, or one in six Americans, gets sick from food contamination every year, according to the Centers for Disease Control and Prevention.
"The bill is useless unless the agencies actually promulgate regulations that make it work," said Kimbrell. "This is very serious. They are twiddling their bureaucratic thumbs while Americans become sick and die."
---