Yosemite closes campgrounds, two dead due to deadly rodent-borne lung disease
Yosemite National Park has closed part of their campgrounds after two visitors died due to hantavirus. The disease is carried by wild rodents.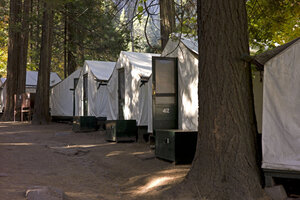 Ben Margot/AP
Yosemite National Park has closed part of a popular campground over a deadly rodent-borne lung disease that has already killed two visitors to the California park, and officials said on Wednesday more cases could emerge.
Two park visitors who stayed in the cabins in June in Curry Village, a popular camping area tucked below the park's sheer granite walls, have died after being infected by the illness known as hantavirus, while a third visitor was sickened but is recovering.
Investigators were looking into whether a fourth visitor was suffering from the illness, which is carried by wild rodents, and officials said more cases could still emerge.
"This is serious. This is something we haven't seen before and we're all working together to control this disease," said Dr. David Wong, medical epidemiologist with the National Park Service.
The National Park Service has already sent emails to nearly 3,000 people who slept in the tent cabins this summer warning them that they may have been exposed to the virus, Wong said.
Nearly 4 million people visit Yosemite each year, drawn from around the world by the park's dramatic scenery and hiking trails. Roughly 70 percent of visitors congregate in the Yosemite Valley, where Curry Village is located.
Captain Charles Higgins, director of the National Park Service public health office, said that park officials decided to close 91 tent cabins after finding rodents nesting between the double walls of the cabins.
"Our current thinking is that the design of these tents -- double walls -- provides rodent space," Higgins said. "We can't get to it to clean it."
PREVIOUS HANTAVIRUS CONCERNS
---