Two more Yosemite campers struck with deadly rodent virus
A rodent-borne disease that has already killed two men has now been diagnosed in two more visitors to Yosemite National Park. In total six people have had the disease.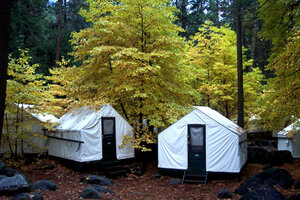 AP Photo
Two more visitors to Yosemite National Park have been diagnosed with a deadly rodent-borne virus, raising the total number of people infected in the unusual outbreak to six, California public health officials said Thursday.
Two men died from the rare lung disease called hantavirus pulmonary syndrome, and four other people survived the rodent-borne illness. Most of the victims are believed to have contracted the virus while staying in tent-style cabins this summer in a popular camping area called Curry Village.
Park officials earlier this week shut down 91 insulated tent-cabins after finding deer mice, which carry the disease and can burrow through pencil-sized holes, nesting between the double walls of the structures.
Park authorities have notified 2,900 parties of visitors who rented the tent cabins from June through August that they may have been exposed to hantavirus.
Four who were infected at Yosemite this summer slept in the insulated tent cabins. One slept elsewhere in Curry Village, located in a valley beneath the iconic Half Dome rock formation, and the sixth case remains under investigation.
One man from northern California and another from Pennsylvania died. Three of the victims have recovered, and one remains hospitalized, the state Department of Public Health said in a press release.
Experts continued to investigate the outbreak, and the number of cases could rise as visitors who were exposed to the virus but have not yet shown symptoms fall ill, the agency said.
Nearly 4 million people visit Yosemite each year, attracted to the park's dramatic scenery and hiking trails. Roughly 70 percent of those visitors congregate in Yosemite Valley, where Curry Village is located.
Hantavirus is carried in rodent feces, urine and saliva that dries out and mixes with dust that can be inhaled by humans, especially in small, confined spaces with poor ventilation.
People also can be infected by eating contaminated food, touching contaminated surfaces or being bitten by infected rodents.
STARTS WITH FLU-LIKE SYMPTOMS
---