Why Michelle Obama isn't watching the GOP convention
Michelle Obama told David Letterman she's not watching, but said every American voter should watch the Republican and Democratic conventions.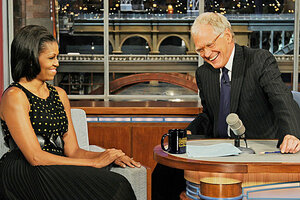 (AP Photo/CBS, Jeffrey R. Staab)
Michelle Obama says she isn't tuning in to this week's Republican National Convention. But that's just her.
Appearing on CBS' "Late Show" on Wednesday, the first lady encouraged every American to follow coverage of both political conventions. It's a good way to help each citizen decide which presidential candidate to vote for in November, she told host David Letterman.
But Mrs. Obama noted that her decision is already made. So is her decision about watching this week's convention. As the wife of the guy the Republicans are running against, "I tend not to watch it," she said.
RECOMMENDED: Are you more (or less) liberal than Barack Obama? Take the quiz
Mrs. Obama's appearance on "Late Show" was part of her back-to-school media tour. She also recorded appearances Wednesday on "The Dr. Oz Show" and "Rachael Ray", which will air in September. According to the White House, Mrs. Obama is discussing improvements to the federal guidelines for school lunches that go into effect this school year, and updates to the Presidential Youth Fitness Program.
---