Mia Love draws love from Republicans in Tampa
The daughter of Haitian immigrants and mayor of Saratoga Springs, Utah, stands to become the first black Republican woman in Congress.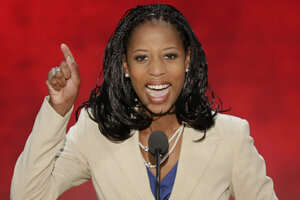 J. Scott Applewhite/AP
Utah congressional candidate Mia Love said Tuesday it's possible to "revive" the American dream she came to know as the daughter of Haitian immigrants by focusing on self-reliance, not President Obama's failed policies.
Love drew rousing cheers Tuesday night during a coveted slot at the Republican National Convention in Tampa, Fla.
"Mr. President, I'm here to tell you the American people are awake and we're not buying what you're selling in 2012," Love said.
Love is a darling of tea-party and conservative Republicans for her groundbreaking role in state politics as Utah's first black woman to become a mayor.
She now stands to become the first black Republican woman in Congress if she topples Democrat Jim Matheson in the November election.
Love's speech lasted only a few minutes but she was an instant hit, drawing numerous ovations, even chants of "U-S-A."
"Let me tell you about the America I know," she said. "My parents immigrated to this country with 10 dollars in their pockets and the hope the America they heard about really did exist. When tough times came, they did not look to Washington, they looked within. So, the America I grew up knowing was centered in self-reliance and filled with the possibility of living the American dream."
---