NFL fan falls to death at Houston's Reliant Stadium. Are stadiums unsafe?
NFL fan falls to death: An NFL fan plunged to his death from an escalator at Houston's Reliant Stadium Thursday, in the second fatal injury at a Texas sports venue in just over a year.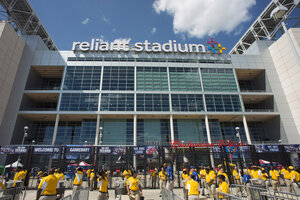 Dave Einsel/AP/File
A 25-year-old fan died after tumbling about 60 feet from a fifth-floor escalator at Reliant Stadium during a preseason Houston Texans game, officials said Friday.
Jonathon Kelly of Houston fell to the ground floor during the Thursday night game against the Minnesota Vikings, and frantic witnesses called police to report where his body had landed, police spokesman John Cannon said.
The fall appeared to be an accident, according to police, who didn't immediately release the victim's name pending notification of his family. But the Harris County medical examiner's office released Kelly's name and hometown Friday evening.
Kelly was traveling down from the fifth floor when he fell to the ground, said Mark Miller, the general manager of SMG-Reliant Park. Two medical teams working at the stadium treated the man at the scene before he was transported to Memorial Hermann Hospital, where he died, he said.
Staffers monitor fan safety at each escalator landing, Miller said.
"We make sure they're not overloaded and we try to operate them in the safest possible manner," Miller said.
The bank of escalators in the northeast corner of the stadium where the fall occurred was closed for inspections, and Reliant Park officials are reassessing safety procedures, he said.
---