Snedeker, Dustin Johnson among US Ryder Cup captain's picks
US Ryder Cup captain Davis Love III picked one Ryder Cup rookie along with three others Monday to fill out the American squad for the biennial golf competition later this month outside Chicago.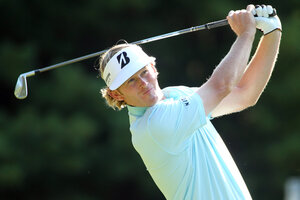 Stew Milne/AP
Davis Love III became the third straight U.S. captain to pick a Ryder Cup rookie, and the first captain since 1997 who had to spend a pick on Jim Furyk.
Love filled out his 12-man team Tuesday by selecting Furyk, Steve Stricker, Dustin Johnson and Brandt Snedeker, one of four Ryder Cup rookies who will be playing in a team competition for the first time as a pro.
Johnson and Snedeker, in effect, played their way onto the team the last two weeks as the only Americans to finish among the top six in both FedEx Cup playoff events. It was a performance that made it difficult for Love to ignore.
"I think we're extremely deep this time, deeper than we've ever been. ... There was a lot of guys that played a lot of really good golf," Love said. "You can analyze the numbers up and down and back and forth. It was tough to leave really anybody off."
The Ryder Cup is Sept. 28-30 at Medinah outside Chicago. Even though Europe has dominated this competition since 1995 — it has won six of the last eight times — it has won on U.S. soil only twice in the last 20 years.
The Ryder Cup has never looked stronger on paper. It will feature 24 of the top 36 players in the world ranking, and the Americans have 10 players from the top 20. The U.S. could have been even stronger in the world ranking, except that Love left out Hunter Mahan, a two-time winner this year who is No. 19.
Love had Furyk and Stricker in mind all along, even consulting with them on his four captain's picks.
"I laid it out early on what I thought we needed and we stuck with it," Love said. "I need Jim Furyk. I need Steve Stricker. The team will benefit from those guys being in the locker room, being in the team room. Then, you can't argue with the golf that Brandt and Dustin have been playing. I think they matched up well, and it really did kind of lay right out there for us."
Furyk has qualified for every U.S. team, Ryder Cup and Presidents Cup, since making his debut at Valderrama in 1997. He might have qualified for this team except for two shots that could have cost him two wins. One was the 3-wood he hooked into the trees on the 16th hole at the U.S. Open, the other was an approach that missed the 18th green at Firestone and led to double bogey.
---