Tropical Storm Leslie buffets Bermuda, heads for Newfoundland
Tropical Storm Leslie weakened on Sunday, but still sent heavy rain, wind, and flooding Bermuda's way. The storm may regain some strength Monday on its path to Newfoundland.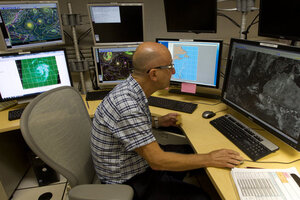 J Pat Carter/AP
Tropical Storm Leslie's outer bands buffeted Bermuda with gusty winds and steady rain Sunday as its center slipped past the wary British enclave on a path that could take it to Canada's Newfoundland.
The government announced that the L.F. Wade International Airport would be closed until at least 3 p.m. EDT due to tropical storm winds. Major airlines already had canceled flights to the British Atlantic territory of about 65,000 inhabitants.
With satellite images showing the large tropical storm's outer bands dwarfing the tiny territory, all bus and sea ferry services were halted and schools were ordered closed to students on Monday, though teachers and principals were still expected to report to their jobs. Many roads were littered with tree branches and other debris. The Bermuda Electric Light Company said there have been five scattered power outages impacting hundreds of customers since the storm began impacting the grouping of islands.
But with a direct strike from Leslie's center growing less likely, and the territory's government decided not to open an emergency shelter. Earlier in the week, it had been forecast to be a Category 2 hurricane as it passed Bermuda.
---