Company behind 'An Inconvenient Truth' to release Rumsfeld documentary
Filmmaker Errol Morris will release a documentary about former US Defense Secretary Donald Rumsfeld, who was in charge of the 2003 invasion in Iraq.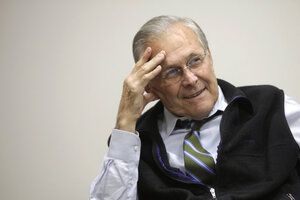 Jacquelyn Martin/AP
Former US Secretary of Defense Donald Rumsfeld is to be the subject of what producers on Monday called a "provocative" documentary directed by Academy Award winning filmmaker Errol Morris, producers said on Monday.
Morris has teamed with the media company behind global warming film "An Inconvenient Truth" for the film, called "The Unknown Known: The Life and Times of Donald Rumsfeld," to be released in 2013.
The documentary will be drawn from filmed interviews Morris conducted with Rumsfeld as well as never-before-seen material from Rumsfeld's private archive, the executive producers said.
Tom Quinn and Jason Janego, co-presidents of the film's distributors RADiUS-TWC, said in a statement the documentary would give a "rare and provocative look into one of the world's most polarizing and charismatic political figures."
Rumsfeld, 80, was in charge of the 2003 US-led invasion of Iraq and he also served as Defense Secretary under President Gerald Ford in the 1970s. Morris called him "a remarkable man whose career spans nearly one third of our nation's history" from the Watergate era to war on terror.
---