Trenton mayor arrested on federal corruption charge
Tony Mack, mayor of New Jersey's capital city, was arrested early Monday by federal agents investigating allegations of bribery in connection with a downtown parking garage project.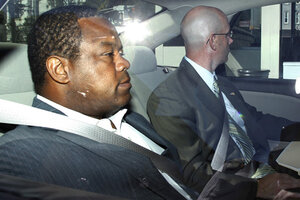 Mel Evans/AP
Federal agents arrested the mayor of New Jersey's capital early Monday as part of an ongoing corruption investigation into bribery allegations related to a parking garage project that was concocted as part of an FBI sting operation.
Trenton Mayor Tony Mack, his brother Ralphiel and convicted sex offender Joseph Giorgianni, a Mack supporter who owns a Trenton sandwich shop, were accused of conspiring to obstruct, delay and affect interstate commerce by extortion under color of official right.
Federal prosecutors alleged Mack agreed to use his influence in connection with a proposed parking garage in the city. The garage was made up — a fake project created by investigators to try to capture Mack, who has financial problems and attracted legal scrutiny since he took office.
U.S. Attorney Paul Fishman said at a news conference Monday that the city-owned land for the garage was assessed at $271,000. He said Mack and Giorgianni agreed to accept $100,000 for the land for the city coffers — as long as the purported developers paid a bribe of $100,000 to be split between the two alleged conspirators.
Federal agents began working with an informant to gather information on Mack and the others in September 2010, just two months after Mack took office. Fishman would not say when the investigation began or why.
Fishman said investigators quickly understood the relationship between the mayor and the sandwich shop owner: "It became clear he was a bagman for the mayor."
The defendants received $54,000 and anticipated accepting an additional $65,000 from a cooperating witness who purported to be a developer, according to court documents that laid out the sting.
---