Candy, cereal, cookies: Farmers keep cows going on creative feed alternatives
With the worst drought in recent memory driving corn prices up, farmers have been forced to buy what they can to feed their cows cheaply. Alternatives could be anything from orange peels to marshmallows.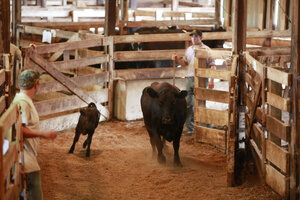 Jeremy Hogan/AP
Mike Yoder's herd of dairy cattle are living the sweet life. With corn feed scarcer and costlier than ever, Yoder increasingly is looking for cheaper alternatives -- and this summer he found a good deal on ice cream sprinkles.
"It's a pretty colorful load," said Yoder, who operates about 450 dairy cows on his farm in northern Indiana. "Anything that keeps the feed costs down."
As the worst drought in half a century has ravaged this year's US corn crop and driven corn prices sky high, the market for alternative feed rations for beef and dairy cows has also skyrocketed. Brokers are gathering up discarded food products and putting them out for the highest bid to feed lot operators and dairy producers, who are scrambling to keep their animals fed.
In the mix are cookies, gummy worms, marshmallows, fruit loops, orange peels, even dried cranberries. Cattlemen are feeding virtually anything they can get their hands on that will replace the starchy sugar content traditionally delivered to the animals through corn.
"Everybody is looking for alternatives," said Ki Fanning, a nutritionist with Great Plains Livestock Consulting in Eagle, Nebraska. "It's kind of funny the first time you see it but it works well. The big advantage to that is you can turn something you normally throw away into something that can be consumed. The amazing thing about a ruminant, a cow, you can take those type of ingredients and turn them into food."
PRICING VARIES
Feed is generally the largest single production expense for cattle operators. Whatever is fed needs to supply energy and protein levels that meet the animals' nutritional needs. High prices for soy has operators seeking alternatives for both corn and soy.
Corn alternatives are in particular demand as supplies are so tight that in some areas of the country, feed corn is not available at any price.
Pricing and availability of the many different "co-products" as they are called, varies from place to place, but buyers report savings of 10 percent to 50 percent.
---