Why California will give driver's licenses to illegal immigrants
Late Sunday, California Gov. Jerry Brown signed a law allowing driver's licenses for illegal immigrants eligible for work permits under a new Obama administration policy.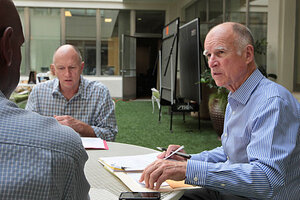 (Rich Pedroncelli/AP Photo)
Some illegal immigrants could get a California driver's license under a bill that Gov. Jerry Brown announced he signed into law late Sunday.
AB2189 by Assemblyman Gil Cedillo, (D) of Los Angeles, will let the Department of Motor Vehicles issue licenses to illegal immigrants eligible for work permits under a new Obama administration policy. The bill requires the department to accept as proof of legal residence whatever document the federal government provides to participants in its deferred action program.
Cedillo said his bill will make roads safer while letting young immigrants drive to school and to work. His reasoning drew support from several Republican lawmakers, while other Republicans argued the state should leave immigration issues to the federal government.
RECOMMENDED: Could you pass a US citizenship test? Take the quiz
"It is a victory for those who were brought here through no choice of their own, played by the rules, and are only asking to be included in and contribute to American society," Cedillo said in a statement.
He said California is the first state to grant drivers' licenses to the group singled out under the Obama administration's policy. Cedillo praised Brown for choosing "public safety over politics" by signing the bill.
"President Obama has recognized the unique status of these students, and making them eligible to apply for driver's licenses is an obvious next step," Brown spokesman Gil Duran said.
Meanwhile, Brown vetoed AB1081, which could have protected illegal immigrants from deportation if they committed minor infractions. The bill has been dubbed "anti-Arizona" legislation, a reference to that state's immigrant identification law.
---