Fungal meningitis cases spotlight risks from custom-mixed drugs
Recent fungal meningitis cases are part of a growing concern over contaminated custom-mixed drugs from 'compounding pharmacies' that supply hospitals, clinics, and doctors. The custom-mixed drugs are not FDA approved.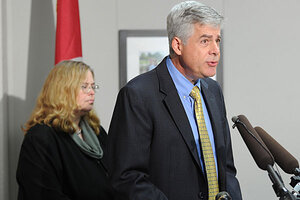 AP Photo/The Tennessean, Shelley Mays
Two people blinded in Washington, D.C., in 2005. Three dead in Virginia in 2006 and three more in Oregon the following year. Twenty-one dead polo horses in Florida in 2009. Earlier this year, 33 people in seven states with fungal eye infections.
And now, at least five people dead and 35 diagnosed as sick with fungal meningitis that authorities say has been linked to steroid shots for back pain.
All these tragedies involved medicines that had been custom-mixed at what are called "compounding pharmacies" — laboratories that supply hospitals, clinics and doctors to a much wider degree in the U.S. than many people realize.
These pharmacies mix solutions, creams and other medicines used to treat everything from menopause symptoms and back pain to vision loss and cancer. Unlike manufactured drugs, these products are not subject to approval by the Food and Drug Administration. And some have turned out to be dangerously contaminated.
RELATED:Why prescription drug abuse in the US impacts Latin America
Compounding pharmacies often obtain drugs from manufacturers and then split them into smaller doses, or mix ingredients sold in bulk. Any of those steps can easily lead to contamination if sterile conditions aren't maintained.
The risks from these products have long been known but are being amplified now by a national shortage of many drugs that has forced doctors to seek custom-made alternatives to the usual first-choice treatments.
---