Obama and Romney: Taking the campaign one day at a time
For the staff working on the presidential campaigns it can become all about 'winning the day.' A good media moment for either President Barack Obama or Republican candidate Mitt Romney can fire up staffers, interns, and volunteers for the next day.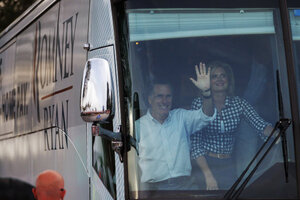 Brian Snyder/Reuters
It can be something as small as positioning the candidate at just the right camera angle or as big as catching the opponent in a campaign-altering slip of the tongue.
Every day, the ground troops of Team Obama and Team Romney set out in pursuit of a common goal: winning the day. Moment by moment, hour by hour, they scramble, maneuver and hustle to gain an inch here, a foot there on the opposition.
Driving it all is the belief that by stringing together enough small, daily victories, they can help their candidate win the one day that truly matters — Nov. 6, Election Day.
If they lose the day on Monday, they will work harder to win it on Tuesday. If they lose on Tuesday, there's always Wednesday or Thursday. Until time runs out.
Each day opens with a mental push of the reset button.
When Obama underperformed in his first debate Wednesday night, his handlers worked all the harder the next morning — in briefings, conference calls, television appearances, attack ads and more — to frame Romney's debate narrative as dishonest. Republican rapid responders served up rejoinders in real time.
Winning the day becomes a state of mind that motivates but also has the potential to distract.
It's what fires up the volunteers, the interns, the media monitors, the cable TV guests, the road warriors, the press wranglers, the local party officials and all the others who make up the infrastructure of a presidential campaign and propel it through long, wearying months and even years.
"It helps you get up at 5 in the morning so that the doughnuts and coffee are ready when the volunteers come in at 6 or 7," says Paul Begala, a Democratic consultant who helped create the 24-hour war room for Bill Clinton's winning presidential campaign in 1992.
---