Ohio's million-dollar Senate seat
Millions of dollars in television ads have been spent between Sen. Sherrod Brown (D) and his challenger, Josh Mandel (R) in the race for one of Ohio's Senate seats. $6 million was spent in the last three weeks of September.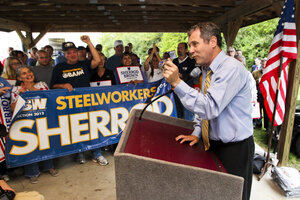 Nick Daggy/Middletown Journal/AP
Job experience has surfaced as the defining issue of the hotly contested, super-expensive fight for Ohio's Senate seat this fall.
Incumbent Democratic Sherrod Brown faces Republican Josh Mandel in the race, which is one of the highest-profile contests in the country.
Brown's liberal voting record and surprise victory six years ago over incumbent Mike DeWine in a closely divided battleground state make him a prime target for Republicans seeking to gain Senate seats.
In a fight infused with outside money, Brown has painted Mandel as ignoring his job as state treasurer in a continual quest for higher office. Mandel says Brown has been on his job too long and Washington needs new blood.
The spat has played out in millions of dollars of television ads across the state. The Wesleyan Media Project found that $6 million was spent on more than 10,000 ads in the state Sept. 9-30 alone.
Mandel's youth and background made him a prime contender to take on a popular incumbent. Besides being a U.S. Marine veteran who served two tours in Iraq, he's proven a gifted fundraiser. Married into the well-heeled Ratner family of Cleveland, Mandel has raised $8.4 million to Brown's $10.5 million, according to the most recent federal election filings.
---