Romney takes aim at foreign policy, as eyes turn to VP debate
Republican nominee Mitt Romney is expected to deliver a speech outlining his foreign policy plan Monday. Meanwhile, President Barack Obama will be fundraising in California, and Vice President Joe Biden and Wisconsin Rep. Paul Ryan prepare for the vice presidential debate on Thursday.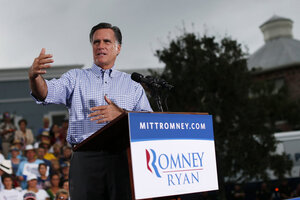 Shannon Stapleton/Reuters
Republican challenger Mitt Romney delivers a speech Monday he hopes will undo string of foreign policy stumbles, taking aim at an issue where polls show President Barack Obama holds a clear lead. The incumbent concludes a last swing through solidly Democratic California, scooping up more campaign cash from the rich and famous.
With the race growing tighter after Obama's poor performance in last week's presidential debate — the first of three — Democrats and Republicans now are looking to Thursday's debate confrontation between Vice President Joe Biden and Wisconsin Rep. Paul Ryan.
And all in all both tickets are bearing down on their attempts to draw in the small percentage of voters who remain undecided in fewer than 10 states, with Iowa, Ohio, Virginia and Florida all set for candidate visits this week.
---