Obama says, 'I had a bad night' during Denver debate
As campaigning gets tougher and the race grows tighter, President Barack Obama said in an interview he knew Gov. Mitt Romney had a good night during last week's presidential debate.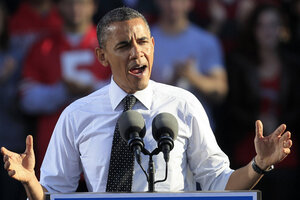 Tony Dejak/AP/File
President Barack Obama conceded Wednesday he did poorly in a debate last week that fueled a comeback by his rival in the race for the White House. Mitt Romney barnstormed battleground Ohio and pledged "I'm not going to raise taxes on anyone" in a new commercial.
A perennial campaign issue flared unexpectedly as Romney reaffirmed he is running as a "pro-life candidate and I'll be a pro-life president." He spoke one day after saying in an interview he was not aware of any abortion-related legislation that would become part of his agenda if he wins the White House.
Romney and Obama maneuvered in a race with 27 days to run as Vice President Joe Biden and Republican running mate Paul Ryan looked ahead to their only debate, set for Thursday night in Danville, Ky.
Whatever the impact of the Biden-Ryan encounter, last week's presidential debate boosted Romney in the polls nationally and in Ohio and other battleground states, to the point that Obama was still struggling to explain a performance even his aides and supporters say was subpar.
"Gov. Romney had a good night. I had a bad night. It's not the first time I've had a bad night," Obama said in an ABC interview.
Asked if it was possible he had handed the election to Romney, the president replied: "No."
"What's important is the fundamentals of what this race is about haven't changed," he said. "You know, Gov. Romney went to a lot of trouble to try to hide what his positions are," he said, referring to abortion as an example.
---