Lance Armstrong may take lie detector test
In an effort to clear his name cyclist Lance Armstrong, implicated in a complex doping ring in a report by the United States Anti-Doping Agency, may take a lie detector test, said his lawyer. His lawyer also said he would like Armstrong's former teammates, who testified against him, to take the test as well.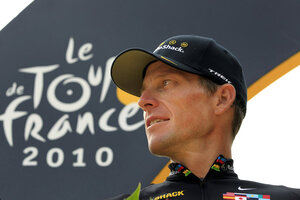 Bas Czerwinski/AP/File
Lance Armstrong might take a lie detector test to clear his name from doping allegations, his lawyer said on Sunday, as the ripples of the biggest scandal to hit cycling prompted Australian officials to consider an amnesty for cheats.
Cycling Australia's board will meet this week to decide action against Armstrong's former team mate, Matt White, after he confessed to doping and stepped down as sports director of the Orica-GreenEDGE team.
Board president Klaus Mueller said amnesty was one of options to find out how deep the problem was in Australia.
Another former team mate of the American, Scot David Millar, said "the power of omerta" had kept cyclists silent about doping for years but that had changed in the wake of the United States Anti-Doping Agency's (USADA) damning report on Armstrong.
"If you spoke out, you were isolated. Look at what happened to the handful that did. That's the power of the omerta. That's not the case anymore," Millar, who was suspended for two years for doping in 2004, said in an interview with Scotland's Sunday Herald.
Armstrong is set to lose his record seven Tour de France titles after the USADA published a 1,000-page report on Wednesday that said the now-retired American took part in and organised an elaborate and sophisticated doping scheme on his way to his unrivalled success on the Tour.
Armstrong has always denied he took banned substances during his glittering career but refused to challenge the USADA charges against him.
---