Longtime GOP Senate moderate Arlen Specter bucked his party
A political moderate, Arlen Specter was swept into the Senate in the Reagan landslide of 1980. But the former Democrat was not shy about bucking fellow Republicans.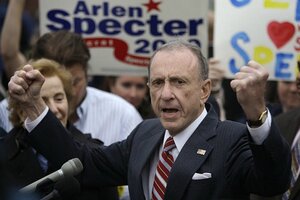 Carolyn Kaster/AP
Former U.S. Sen. Arlen Specter, the outspoken Pennsylvania centrist whose switch from Republican to Democrat ended a 30-year career in which he played a pivotal role in several Supreme Court nominations, died at his home in Philadelphia Sunday.
Specter rose to prominence in the 1960s as an aggressive Philadelphia prosecutor and as an assistant counsel to the Warren Commission, developing the single-bullet theory that posited just one bullet struck both President Kennedy and Texas Gov. John Connally – an assumption critical to the argument that presidential assassin Lee Harvey Oswald acted alone. The theory remains controversial and was the focus of Oliver Stone's 1991 movie "JFK."
In 1987, Specter helped thwart the Supreme Court nomination of former federal appeals Judge Robert H. Bork – earning him conservative enemies who still bitterly refer to such rejections as being "borked."
But four years later, Specter was criticized by liberals for his tough questioning of Anita Hill at Clarence Thomas' Supreme Court nomination hearings and for accusing her of committing "flat-out perjury." The nationally televised interrogation incensed women's groups and nearly cost him his seat in 1992.
---