'Binders full of women': What's the social media buzz about?
'Binders full of women': Romney used the phrase in answering a question about income equality for women. 'Binders full of women' now has a Twitter hashtag, and at least 20 Facebook accounts.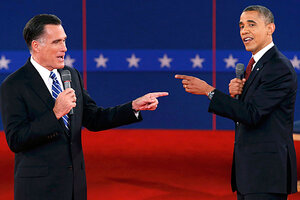 REUTERS/Mike Segar
Move over Big Bird, these binders are full of women.
The offhand phrase from former Massachusetts Gov. Mitt Romney on Tuesday night was one of many topics that pinballed across social networks, as users instantly weighed in on moments from his debate with President Obama.
As with their first debate, for many users it was less about picking an instant winner and a loser and more about dissecting how the candidates relate to everyday Americans.
Here are some of the key online trends from the night:
— BINDERS FULL OF WOMEN: Yes, it now has its own Twitter account, (at) Romneys_Binder, with more than 12,000 followers before the debate ended. On Facebook, it has nearly 20 different Facebook pages, including one with nearly 136,000 likes. The parodies started pouring in after Romney said that while he was governor of Massachusetts, he sought qualified women for his administration. Romney said he went to "a number of women's groups and said, 'Can you help us find folks?,' and they brought us whole binders full of women."
RECOMMENDED: Are you more (or less) conservative than Mitt Romney? Take the quiz
The "binders full of women" phrase was launched by a question from town-hall debate participant Katherine Fenton. She asked Obama: "In what new ways do you intend to rectify the inequalities in the workplace, specifically regarding females making only 72 percent of what their male counterparts earn?"
After Obama answered, Romney took a swing at the question.
---