Massachusetts tackles the medical marijuana question
This November Massachusetts voters will determine whether the state should allow the use of marijuana for medical purposes. Some say the law could be the next step to full legalization in the state.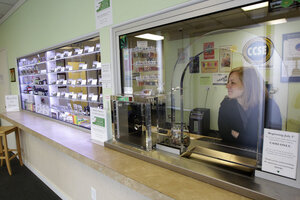 Ted S. Warren/AP
As a neuropsychologist and Harvard Medical School neurology instructor, Peter Hayashi had access to the best treatments after he suffered a severe shoulder injury and developed chronic, debilitating nerve pain.
He tried painkillers, physical therapy, acupuncture, massage and other pain management techniques, but nothing helped as much as marijuana.
Now Hayashi is a leading supporter of a Massachusetts ballot question that would eliminate state criminal and civil penalties for the medical use of marijuana by people with cancer, hepatitis C, Parkinson's Disease, AIDS or other conditions determined by a patient's doctor.
"Medical marijuana gives me a type of pain relief that I have not gotten from any other medication," said Hayashi, 56, of Newton, who has been disabled for seven years.
"I'm definitely more functional if I use medical marijuana. I'm more likely to get up, make dinner, bake a loaf of bread or help my son with his homework."
Opponents say the law is ripe for abuse and fraud, and could lead to a proliferation of marijuana dispensaries or "pot shops," which are difficult to regulate.
"It's not a debate about having compassion for the ill. It's about passing a law that would promote widespread recreational use of marijuana as well as increase our youth pot addiction rates," said Heidi Heilman, who heads the Massachusetts Prevention Alliance, a group working to defeat Question 3 on the Nov. 6 ballot.
---