Penn State holds child abuse prevention conference
Still picking up the pieces after the Jerry Sandusky molestation scandal, Penn State will hold a three-day conference on preventing child abuse. Notable participants will include Elizabeth Smart and Sugar Ray Leonard.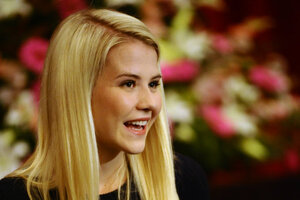 Larry Deklinski/AP
Pennsylvania State University, which was shaken by a molestation scandal that put former coach Jerry Sandusky in prison and tarnished its famed football program, holds a three-day conference starting this weekend aimed at preventing child abuse.
The conference features child sex abuse survivors Sugar Ray Leonard, a former world boxing champion, and Elizabeth Smart, who was abducted in 2002 and held captive for nine months.
Starting on Sunday, it comes just weeks after Sandusky, a former Penn State assistant football coach, was sentenced to 30 to 60 years in prison for molesting 10 boys over more than a decade.
---