Hurricane Sandy: Economy should bounce back analysts say
Though hurricane Sandy will impact dozens of industries and cause billions in damages, experts say the economy should recover quickly with reconstruction after the storm.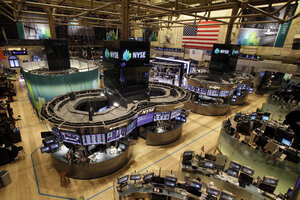 Richard Drew/AP
Airlines have canceled thousands of flights, stranding travelers around the globe. Insurers are bracing for possible damages of $5 billion. Retailers face shrunken sales.
Hurricane Sandy took dead aim at New Jersey and Delaware on Monday, with sheets of rain and wind gusts of more than 90 mph knocking out electricity and causing major disruptions for companies, travelers and consumers. But for the overall economy, damage from the storm will likely be limited. And any economic growth lost to the storm in the short run will likely be restored once reconstruction begins, analysts say. Americans may even spend more before the storm when they stock up on extra food, water and batteries.
Preliminary estimates are that damage will range between $10 billion and $20 billion. That could top last year's Hurricane Irene, which cost $15.8 billion. If so, Hurricane Sandy would be among the 10 most costly hurricanes in US history. But it would still be far below the worst — Hurricane Katrina, which cost $108 billion and caused 1,200 deaths in 2005.
"Assuming the storm simply disrupts things for a few days and it doesn't do significant damage to infrastructure, then I don't think it will have a significant national impact," Mark Zandi, chief economist at Moody's Analytics, said Monday.
---