Hurricane Sandy: Latest hurdle in Romney's long slog of a campaign
On Monday, as hurricane Sandy slammed the East Coast, Republican Presidential nominee Mitt Romney took a step back from what has been a long, tough journey on the campaign trail.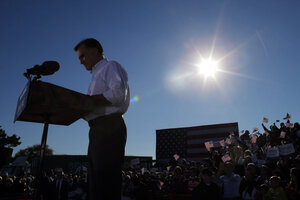 Brian Snyder/Reuters
Republican presidential candidate Mitt Romney was about to go on stage in Ohio on Monday when he decided to abruptly shift the tone of his campaign given the potentially lethal impact of Hurricane Sandy on the East Coast.
With the storm bearing down, Romney canceled campaign events scheduled for Monday and Tuesday in Wisconsin, Iowa and Florida. Running mate Paul Ryan and Romney's wife, Ann, also stepped back from campaigning.
---