Campaign 2012: Is Obama betting it all on Bill?
There's no arguing that former President Bill Clinton has been an asset on the campaign trail for President Barack Obama. In the final days of the campaign, especially in the battleground states, Obama is leaning heavily on Clinton.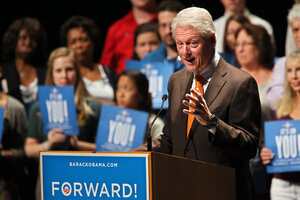 Lannis Waters/Palm Beach Post/AP
Republican Mitt Romney has millionaire backers, a huge staff and years of campaign experience, which may be enough to win the White House. President Barack Obama has one asset Romney can't match, however: Bill Clinton.
The former president is sprinting through battleground states, delivering more speeches than Obama himself and, arguably, carrying much of the president's re-election hopes on his 66-year-old shoulders.
There's nothing secret about this campaign weapon. If it's a competitive state, Clinton is there — and there and there — picking apart Romney's proposals in the folksy yet detailed style he unleashed at the Democratic convention in Charlotte, N.C. Many party activists left there wondering why Obama can't make his own case as compellingly.
Friday was typical for Clinton. He made five stops in Florida, stretching from Palm Beach in the southeast to Fort Myers on the Gulf Coast to Tallahassee in the panhandle.
Romney had hoped to lock down the mega-swing state long ago. But he will return Monday because of its uncertainty.
Clinton, his raspy voice hoarser than usual, mixed nostalgia with lawyerly dissections when criticizing Romney's tax-cut plans in Palm Bay, the day's second stop, south of Cape Canaveral.
---