Election 2012: Voting issues emerge
Long lines, voter IDs, crashed computers were reported following Tuesday's voting. The effects of hurricane Sandy were a factor in New York and New Jersey.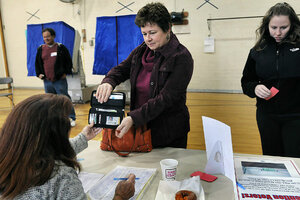 AP Photo/Bucks County Courier Times, Kim Weimer
U.S. voters complained about erratic implementation of voter ID laws, while long lines and makeshift polling sites in storm-hit New York and New Jersey added to confusion in a bitterly contested presidential election.
Watchdog groups reported complaints from people turned away from polls because they did not have identification in states like Pennsylvania, where ID was not required. In swing states Virginia and Florida, long lines led to numerous complaints and fears that people would give up without casting a ballot, while large numbers of people in Ohio reported being forced to vote by provisional ballot.
It was unclear what impact the voting irregularities might have on an election that caps a close presidential campaign between Democratic President Barack Obama and Republican challenger Mitt Romney.
Throughout the day, voters in Pennsylvania, which saw court battles over controversial voter ID requirements, reported getting conflicting messages over whether an identification was required to vote. A federal judge had ruled the new voter ID law could not be implemented this election because there was not enough time to ensure all registered voters had proper identification.
But poll workers were still requesting voter IDs, and reports surfaced of people being turned away if they could not produce one, witnesses and watchdog groups reported.
"Poll workers have been poorly and wrongfully trained, and they are standing there and sitting there and requiring people to show ID, and sending people home if they don't have the ID," said Barbara Arnwine, executive director of the Lawyers' Committee for Civil Rights.
---