Karl Rove and Fox News: A 'civil war' over election results?
Karl Rove challenged the premature declaration of an Obama win in Ohio. Now Fox News says Karl Rove added to the network's coverage. Meanwhile, what's the feud between Donald Trump and NBC's Brian Williams?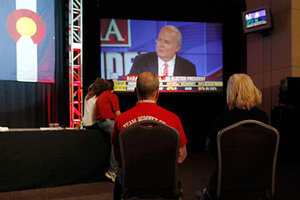 (AP Photo/David Zalubowski)
The on-air spectacle of Fox News analyst Karl Rove publicly questioning his network's call of the election for Barack Obama happened because Rove and Fox's decision desk both had pieces to a puzzle that the other wasn't aware of, a network executive said Wednesday.
Far from an embarrassment, the incident proved Rove's value to the network as more than an analyst, said Michael Clemente, Fox News Channel executive vice president of news editorial.
Rove, former top advisor to President George W. Bush and a prominent fundraiser for Republican Mitt Romney, suggested Fox had prematurely declared Obama the winner in Ohio and thus for the election as a whole. "I'd be very cautious about intruding in this process," Rove said.
RECOMMENDED: 12 reasons Obama won the election
It led to Fox anchor Megyn Kelly getting up from her desk and marching down a hallway to question the off-air analysts responsible for the network's election calls.
The incident was "an odd civil war," noted Tampa Bay Times news analyst Eric Deggans.
Rove "finally had to concede to the arithmetic, but not before creating a defining image of a partisan, and a network, at war with the very reality it could not avoid reporting," wrote Time magazine critic James Poniewozik.
---