Gas rationing begins in New York City and Long Island as some power returns
New York City Mayor Michael Bloomberg announced gasoline rationing in the five boroughs, starting early Friday morning, along with Long Island. In the meantime, power crews are slowly getting electrical power restored.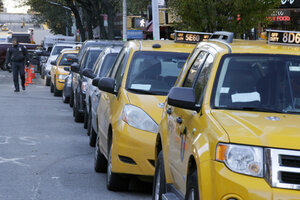 Richard Drew/AP
A gasoline rationing plan that lets motorists fill up every other day went into effect in New York on Friday morning, as utility crews made some progress erasing outages that put thousands of new homes and businesses in the dark in a region still reeling from Superstorm Sandy.
Police enforced the new system at filling stations in New York City and on Long Island as drivers turned out before dawn to line up for their rations. At a Hess station in the Hell's Kitchen neighborhood of Manhattan, drivers said it appeared to be working so far.
Luis Cruz, 35, of the Bronx, gassed up the Dodge minivan he uses as a pet chauffeur.
"It's a lot better," Cruz said. "A couple of days ago I waited four hours. They should have done this a long time ago."
The line to the station was just a block and a half long Friday morning, and customers said they waited about 15 minutes. Last week, some lines stretched for a mile or more.
"This is designed to let everybody have a fair chance, so the lines aren't too oppressive and that we can get through this," Mayor Michael Bloomberg said Thursday.
Only a quarter of the city's gas stations were open, the mayor said. Some were closed because they were out of power, others because they can't get fuel from terminals and storage tanks that can't unload their cargo.
Near a still-closed auto tunnel linking Manhattan and Brooklyn early Friday, cab and delivery truck drivers — exempt from the rationing system — eyed with dismay a line of closed gas stations.
---