'Disaster tourists' bring gawking and ethical questions to Sandy-hit areas
Visitors are coming to see the damage left by hurricane Sandy in some New York and New Jersey neighborhoods. Some residents understand their curiosity, while others are annoyed at the gawkers.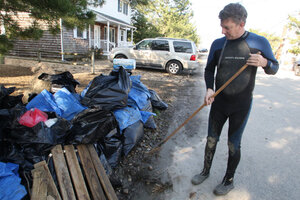 Edward Lea/The Press of Atlantic City/AP
Garbage trucks, hulking military vehicles and mud-caked cars move slowly through a Staten Island waterfront neighborhood still reeling from Superstorm Sandy's storm surge. Then comes an outlier: a spotless SUV with three passengers peering out windows at a mangled home choked with sea grass.
Residents recognize the occupants right away. They're disaster tourists, people drawn to the scene of a tragedy to glimpse the pictures they've seen on television come to life.
Two weeks after the superstorm socked the region, cleanup continues in New York and New Jersey, which bore the brunt of the destruction. At its peak, the storm knocked out power to 8.5 million in 10 states, and some during a later nor'easter. About 73,000 utility customers in New York and New Jersey remained without power late Sunday, most of them on Long Island.
But the storm didn't just bring darkness and despair; it also brought the gawkers.
"It's a little annoying," said Chris Nasella, who paused as he finished cleaning up a home reduced to a shell on the first floor. "By the same token, I would do it, too. I don't think anyone wouldn't want to look at boats that are picked up and left on the streets. As long as you don't get a kick out of it, it's an amazing thing."
There weren't many tourists in Nasella's neighborhood on Saturday. Cleanup crews had done some extensive work. The neighborhood is only accessible through streets clogged with idled cars in gas lines and traffic made deliberate by still-powerless traffic signals.
But they left an impression.
---