Angus King of Maine helps Senate tilt toward Democrats
Angus King, an Independent, won Republican Olympia Snowe's Senate seat earlier this month. Angus King says he has decided to caucus with Democrats, giving them a 10-vote advantage in the Senate starting in January.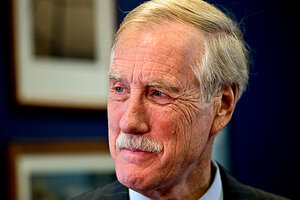 (AP Photo/J. Scott Applewhite)
Democrats in the US Senate increased their voting edge to 10 with a newly elected independent saying Wednesday he will align with them.
Senator-elect Angus King says he has decided to caucus with Democrats, ending months of speculation about which party he would vote with.
The former Maine governor was elected last week to replace retiring Republican Sen. Olympia Snowe, a prominent centrist. Republican and conservative groups spent millions of dollars to attack King during the campaign for Snowe's seat.
RECOMMENDED: 12 Reasons Obama won, and Romney lost
With King joining their caucus, Democrats will have a 55 to 45 edge when the new Senate takes office in January. The balance for the Democrats in the current Senate is 53-47. Republicans control the House of Representatives, meaning re-elected President Barack Obama will have to contend with a divided legislative branch.
King said Wednesday that caucusing with Democrats will still allow him to take independent positions on issues.
---