Texas man denies guilt to the end
As his mother and sister looked on, Preston Hughes III received a lethal injection on Thursday. Hughes was convicted of murdering a teenage girl and her 3-year-old cousin in 1988.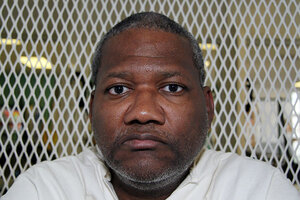 AP Photo/Michael Graczyk
Convicted killer Preston Hughes III proclaimed his innocence as he was executed Thursday for the fatal stabbing of a 3-year-old Texas boy and the child's teenage cousin who uttered her attacker's first name to police in her dying breaths.
Hughes long had contended he wasn't responsible for the slayings of Shandra Charles, 15, and her cousin Marcell Taylor 24 years ago in Houston, and that police had planted evidence and coerced his confessions.
The condemned prisoner's mother sobbed and wailed as she witnessed the lethal injection. Hughes' sister was at her side.
"You know I'm innocent and I love you both," Hughes, 46, said as his mother cried loudly. "Please continue to fight for my innocence even though I'm gone.
"Give everybody my love."
He took several deep breaths and then stopped moving. His mother, seated in a chair near the death chamber window, cried out: "My baby ... I haven't touched my child in 23 years."
She became more composed in the minutes after it was apparent he was unconscious.
Hughes was pronounced dead at 7:52 p.m. CST, 15 minutes after the lethal drug began flowing into his arms. No one representing his victims witnessed the punishment.
Hughes became the 15th Texas prisoner executed this year and the second in as many nights. On Wednesday, Ramon Hernandez, 41, was executed for the rape, robbery and murder of a San Antonio woman abducted from a bus stop in 2001.
---