Superstorm was super-test for state and local leaders
Experts have given New Jersey Gov. Chris Christie, New York Gov. Andrew Cuomo, and New York City Mayor Michael Bloomberg good reviews for their performances after hurricane Sandy.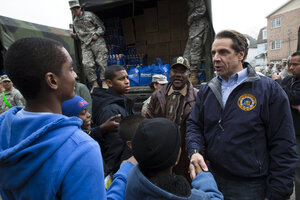 John Minchillo/AP
For New Jersey Gov. Chris Christie, leadership often came with an empathetic hug. For New York Gov. Andrew Cuomo, it came with an angry tirade at utilities slow to restore power. For New York City Mayor Michael Bloomberg, it came with cool, businesslike assurance.
Experts in leadership and disaster response interviewed by The Associated Press gave all three chief executives high marks for their performance so far in Superstorm Sandy, a disaster that left more than 100 people dead and presented perhaps the biggest crisis-management test yet for three Northeastern politicians who have all been rumored to hold presidential ambitions.
"Throughout the country, what the American people seek is a kind of authenticity in their public leaders, and these three guys have demonstrated that authenticity throughout this crisis," said Syracuse University political science professor Robert McClure.
Most of those interviewed said Christie stood out for being the most outspoken and ahead of the curve, whether he was ordering gas rationing nearly a week before anyone else, putting his GOP credentials on the line to praise the Obama administration's response or using a televised briefing to comfort children with a simple: "Don't be scared."
---