Maryland moving to Big 10 Conference. Rutgers next to join?
The University of Maryland announced Monday that it's moving to the Big Ten. It's widely expected that Rutgers will join them on Tuesday.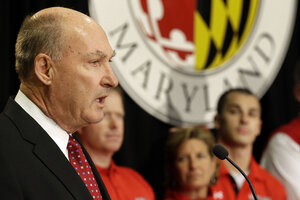 Patrick Semansky/AP
Maryland is joining the Big Ten, leaving the Atlantic Coast Conference in a shocker of a move in the world of conference realignment that was driven by the school's budget woes.
The announcement came Monday at a news conference with school President Wallace D. Loh, Big Ten Commissioner Jim Delany and athletic director Kevin Anderson.
"The membership of the Big Ten enables us to guarantee the financial sustainability of Maryland athletics for a long, long, long time," Loh said.
Loh added that Maryland athletics has been living "paycheck to paycheck." The school had eliminated seven sports programs earlier this year.
"The director and I are absolutely committed to begin the process to reinstate some of the teams we had to terminate," Loh said.
Maryland will become the southernmost member of the Big Ten member starting in 2014.
"Really in the last year it's become so obvious that major conferences are expanding outside of their regions," Delany told the AP in an interview before Maryland's news conference on campus in College Park. "You have multiple major conferences all in multiple regions.
"It seemed to us that there was a paradigm shift occurring around us. And therefore the question is how do you respond to that in a way that stay true to yourself, but is also only responsive not to the world you want but the world that you live in."
---