Colin Kaepernick: More than a 49ers backup QB?
49ers QB Colin Kaepernick and linebacker Aldon Smith teamed up to vanquish the Chicago Bears on Monday Night Football. Colin Kaepernick, in his first NFL start, passed for 243 yards and two touchdowns.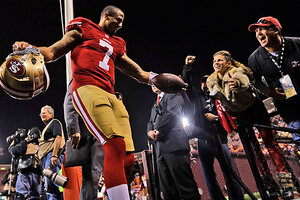 (AP Photo/Marcio Jose Sanchez)
Aldon Smith's high-flying defense gave Colin Kaepernick all kinds of extra chances in his first career NFL start.
And the Kaepernick looked nothing like a backup in delivering on nearly every one of those opportunities under the lights on football's big stage.
The strong-armed Kaepernick passed for 243 yards and two touchdowns in place of the injured Alex Smith, Aldon Smith had 5½ sacks, and the 49ers whipped the Chicago Bears 32-7 on Monday night in a highly anticipated NFC showdown that hardly lived up to the hype.
"I wanted to come out and show what I'm capable of and show that I can be a starter," Kaepernick said. "That's what I've been trying to prove since I've been here."
RECOMMENDED: Are you a real NFL fan? Take the Week 11 quiz
With Aldon Smith wreaking havoc on the other side of the ball, Kaepernick threw touchdown passes to Vernon Davis and Michael Crabtree, and Kendall Hunter ran for a 14-yard score as San Francisco (7-2-1) jumped out to a big lead by scoring on each of its first four possessions.
---