Florida teen charged in fatal school bus shooting
A 13-year-old girl died after being shot by a teenage boy on a school bus on the way to school on Tuesday morning. A 15-year-old boy was charged with the crime. The eight other children on the bus at the time were uninjured.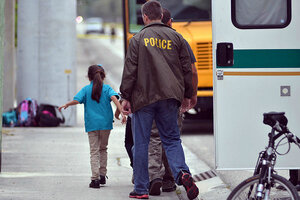 AP Photo/El Nuevo Herald,Gaston De Cardenas
A South Florida teen was charged with fatally shooting a girl in front of her younger sister and several other students while riding the bus to school Tuesday morning, Miami-Dade police said.
The 15-year-old male student was taken into custody at the scene in Homestead and later charged with manslaughter and carrying a concealed firearm. The Associated Press does not identify juvenile offenders.
An arrest report says the minor took a gun from his backpack and began displaying it on the bus. He then fired it once, hitting Lourdes Guzman. The 13-year-old girl was airlifted to a Miami hospital, where she died.
Eight other children, including Guzman's 7-year-old sister, were on the bus but were not harmed. Authorities took the children and the bus driver to a police station to be interviewed.
Guzman attended the charter middle school Palm Glades Preparatory Academy. Her sister went to nearby Summerville Advantage Academy.
Concerned parents gathered at the shooting site, which was cordoned off by crime scene tape as authorities combed the bus for evidence and gathered children's backpacks and belongings. The shooting happened about seven minutes away from the school.
---