Detroit rejects funds, will the city be out of cash by Christmas?
Detroit's city council rejected a condition that $10 million in much-needed aid was dependent upon. The city, which is struggling financially was expected to receive $30 million from the state of Michigan by mid-December.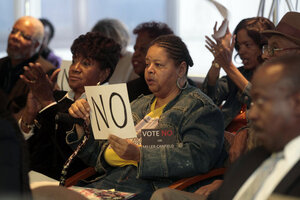 Rebecca Cook/Reuters
Detroit will not get a much-needed $10 million after the city council rejected on Tuesday a contract to hire a law firm that was part of a deal to keep the city on track to overhaul its finances.
The state of Michigan and its biggest city, Detroit, announced a deal last week that includes several milestones the city must achieve in the next month to receive the $10 million by Tuesday and another $20 million by Dec. 14.
The setback leaves the city at risk of running out of cash by the end of December if it does not meet those goals.
---