Giving thanks after superstorm Sandy
Many hit hard by hurricane Sandy will be celebrating a subdued Thanksgiving this year. But there is still much to be grateful for, and thanks to New York and New Jersey organizations, no one will miss a turkey dinner.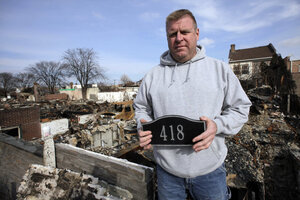 Mark Lennihan/AP
The things that Marge Gatti once cherished are lying on what's left of her deck, spattered in mud, like a yard sale gone awry.
The white fur coat she bought for $80 at an auction. Family videos. A peach-colored glass creamer from England. Books she never got a chance to read.
The stuff is ruined, just like her sodden Staten Island home, which was ravaged by Superstorm Sandy's floodwaters and will be demolished in the coming weeks. Of all things material, Gatti has nothing.
And yet, on Thanksgiving Day, she will be counting her blessings.
"My sons are alive. They were trapped here," said Gatti, 67, who lived in the beige home down the block from the Atlantic Ocean for 32 years. "I'm thankful that I have all my family. And that my friends are still here, you know? We're all friends now. There's no strangers in life anymore."
It will be a subdued Thanksgiving for families hit hard by the storm as they gather with friends and strangers alike, seeking to celebrate the people and things that were spared when so much was lost. But they will not be left to fend for themselves.
Restaurants are donating meals, strangers and churches are opening their doors, and people from across the nation have sent an outpouring of donations for those unable to roast their own turkey.
New York City and Macy's have set aside 5,000 bleacher seats along the Thanksgiving Day Parade route for families affected by Superstorm Sandy. Occupy Sandy, the storm-relief offshoot of the Occupy Wall Street movement, will host a Thanksgiving dinner in lower Manhattan.
---