Jesse Jackson Jr. resigns: What happens next?
Jesse Jackson Jr. (D) of Illinois sent a letter of resignation to House Speaker John Boehner. Illinois Gov. Pat Quinn, a Democrat, has five days to schedule an election to replace Jackson and the election must be held within 115 days. There are unconfirmed reports of an FBI investigation into misuse of campaign funds.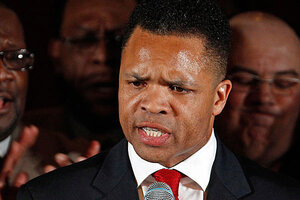 (AP Photo/M. Spencer Green, File)
Rep. Jesse Jackson Jr. has resigned after a months-long leave for mental illness, a spokesman for House Speaker John Boehner said Wednesday.
Boehner's spokesman Michael Steel confirmed his office had received a letter of resignation from Jackson but did not comment further.
Jackson, 47, disappeared in June, and it was later revealed that he was being treated at the Mayo Clinic for bipolar disorder and gastrointestinal issues. He returned to his Washington home in September, but went back to the clinic the next month, with his father saying his son had not yet "regained his balance." He left the clinic a second time earlier this month.
RECOMMENDED: A gallery of ethically challenge Congressmen
His return to the clinic in October came amid reports that he faced a new federal investigation into potential misuse of campaign funds to decorate his home. The Chicago Sun-Times first reported the probe, citing anonymous sources. An FBI spokesman in Washington, Andrew Ames, has told The Associated Press he could neither confirm nor deny the existence of a federal investigation into Jackson.
---