Judge orders merging of Aurora lawsuits against movie chain
A District Judge consolidated seven lawsuits brought against Cinemark, the theater chain where 12 were shot and 58 wounded during the premier of 'The Dark Night Rises' this summer. Cinemark is accused of lax security.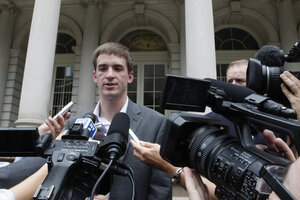 Mary Altaffer/AP
A federal judge in Denver on Monday ordered the consolidation of seven lawsuits brought against the Cinemark theater chain by survivors and relatives of those killed in a shooting rampage in which 12 moviegoers were slain as they watched a Batman film.
US District Judge R. Brooke Jackson also set May 5, 2014, as the earliest start date that any of the personal injury and wrongful death claims against Cinemark could proceed to trial.
Merging the cases and setting a tentative calendar for the litigation came during the first court hearing stemming from civil suits accusing Texas-based Cinemark USA Inc of lax theater security in connection with the July 20 massacre.
Twelve people were killed and 58 wounded when a gunman opened fire on Cinemark patrons in Aurora,Colorado, during a midnight screening of "The Dark Knight Rises."
---