Petraeus scandal: Jill Kelley goes on the attack
In an attempt to recover her reputation following her involvement in the Petraeus scandal, Jill Kelley (through her attorneys and publicist) released new information on Tuesday. Among the items released were a cease-and-desist letter to a New York businessman, a complaint to the Florida bar about a Tampa attorney and a letter to the U.S. Attorney's Office.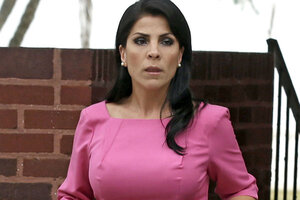 AP Photo/Chris O'Meara, File
A Tampa socialite embroiled in the scandal that cost CIA Director David Petraeus his job fought back Tuesday after more than two weeks of silence as her attorneys released emails, telephone recordings and other material that they say show she never tried to exploit her friendship with Petraeus.
Jill Kelley, through her attorneys, went on the attack against a New York businessman who accused her of incompetence in her work trying to set up a deal he was negotiating with South Korean companies; an attorney who accused her of name-dropping and of being a social climber; and the FBI agent who first leaked her name in connection with the Petraeus scandal.
Kelley, 37, became the focus of national media attention earlier this month after it was revealed that she was the recipient of anonymous emails from Paula Broadwell, Petraeus' biographer and mistress.
Broadwell allegedly told Kelley he should stay away from the former general and Gen. John Allen, who had replaced Petraeus as leader of U.S. forces in Afghanistan. Petraeus and Allen had become friends with Kelley and her husband, Scott Kelley, a noted cancer surgeon, when the generals served at U.S. Central Command, which is headquartered at Tampa's MacDill Air Force Base. Kelley became an unofficial social ambassador for the base, hosting numerous parties for the officers.
---