3 US citizens accused of trying to join al Qaeda indicted in California
Three young men were indicted with conspiracy to provide support to terrorists in a California court on Wednesday. The FBI says they were planning to join with Taliban militants for training in Afghanistan.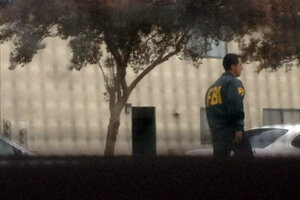 Jenny Collins/AP
Three men accused of plotting to join up with al Qaeda and Taliban militants for training in Afghanistan were indicted on Wednesday in California in a move that could allow prosecutors to move to trial more quickly.
But the four-page indictment, returned by a grand jury in Riverside, offered few details beyond those contained in a criminal complaint filed earlier this month against the men, all U.S. citizens or permanent residents.
The indictment charged Ralph Kenneth Deleon, 23, Miguel Alejandro Vidriales Santana, 21, and Arifeen David Gojali, 21, with conspiracy to provide material support to terrorists, the same charge contained in the complaint.
---