Jesus statue: Lawsuit filed by atheists to remove it from Montana mountain
Jesus statue lawsuit: A statue of Jesus Christ near the Whitefish Mountain ski resort is on federal land. The Freedom From Religion Foundation, and an atheist skiier, have filed a lawsuit to remove the statue that's been there since 1955.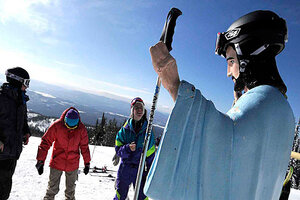 (AP Photo/Missoulian, Linda Thompson, File)
A lawsuit seeking the removal of a Jesus statue near a Montana ski resort will go on after a national group of atheists and agnostics produced a local member who says he is offended by the religious symbol whenever he swooshes down the slopes.
The Knights of Columbus and four individuals had asked a judge to throw out the legal challenge because the Wisconsin-based Freedom From Religion Foundation had not named anyone actually harmed by the statue on federal land next to Whitefish Mountain Resort.
Without such a person, the Knights of Columbus argued, the foundation had no right to bring the lawsuit.
So the foundation found William Cox, an atheist who lives 15 miles from the northwestern Montana resort. Cox submitted a statement that says he frequently goes to Whitefish and has skied many times past the statue, which he considers religious and offensive.
RECOMMENDED: Are you smarter than an atheist? Take the religious quiz
"The plaintiff Cox is a frequent skier and he has skied past the statue of Jesus at issue in this case many times each winter," the complaint states. "Mr. Cox also plans to continue his skiing on Big Mountain in the future, including this winter, when he will again have exposure to the Jesus statue at issue. As a regular skier on Big Mountain, the plaintiff Cox has frequent and unwanted contact and exposure to the Jesus statue when he is skiing on Big Mountain many times each winter. Mr. Cox perceives the statue of Jesus to be a patently religious display which he finds to be offensive on public land. Mr. Cox perceives the Jesus statue to be a conspicuously Roman Catholic monument," reports The Missoulian.
---