Brown University students crack centuries-old code used by Roger Williams
Students at Brown University deciphered marginal notes made in code by Roger Williams, religious dissident and founder of Rhode Island. Scholars at Brown had been studying the texts for years, but it was a group of undergraduates who cracked the code.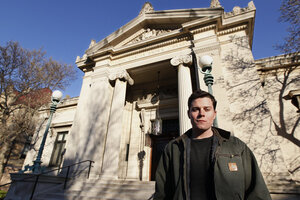 Stephan Savoia/AP
The obscure book's margins are virtually filled with clusters of curious foreign characters — a mysterious shorthand used by 17th century religious dissident Roger Williams.
For centuries the scribbles went undeciphered. But a team of Brown University students has finally cracked the code.
Historians call the now-readable writings the most significant addition to Williams scholarship in a generation or more. Williams is Rhode Island's founder and best known as the first figure to argue for the principle of the separation of church and state that would later be enshrined in the Bill of Rights.
His coded writings are in the form of notes in the margins of a book at the university's John Carter Brown Library. The nearly 250-page volume, "An Essay Towards the Reconciling of Differences Among Christians," was donated in the 1800s and included a handwritten note identifying Williams as the notes' author — though even that was uncertain at first.
A group including former library director Edward Widmer, Williams scholar and Rhode Island College history professor emeritus J. Stanley Lemons and others at Brown started trying to unravel the so-called "Mystery Book" a few years ago. But the most intense work began this year after the university opened up the challenge to undergraduates, several of whom launched an independent project.
"No one had ever looked at it systematically like this in generations," Widmer said. "I think people probably looked at it and shrugged."
---