2012 Heisman Trophy finalists: History will be made, whoever wins
Three distinct college football players will make their way to New York City later this week for the Heisman Trophy presentation.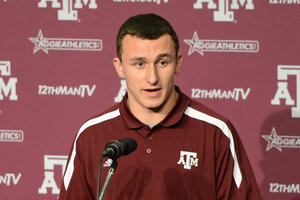 Dave McDermand, Bryan-College Station Eagle/AP
Johnny Manziel and Manti Te'o are in position to make Heisman Trophy history.
Manziel, the redshirt freshman quarterback from Texas A&M, and Te'o, Notre Dame's star linebacker, along with Kansas State quarterback Collin Klein, were invited Monday to attend the Heisman presentation ceremony.
Manziel is the favorite to win college football's most famous player of the year award on Saturday night in Manhattan. He would be the first freshman to win the Heisman and the first Texas A&M player since halfback John David Crow won the school's only Heisman in 1957.
"I'm overwhelmed by this tremendous honor of representing Texas A&M, the 12th Man and all my teammates in New York," Manziel said in a statement. "This is a dream come true for me, and I know it's a credit to all my coaches and teammates. I definitely wouldn't be a Heisman finalist without my teammates and coaches."
Three sophomores have won the award (Tim Tebow in 2007, Sam Bradford in 2008 and Mark Ingram in 2009), but the best a first-year player has ever done is second.
---