Why Obama's approval rating is rising
President Obama's approval rating rose to 57 percent - up 5 percent since the election, and the highest since May 2011 after the Osama bin Laden raid, according to a new AP/Gfk poll. Most say Obama can help improve the economy.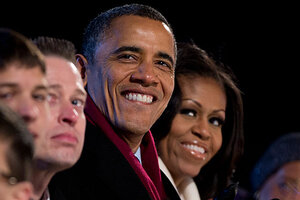 (AP Photo/Carolyn Kaster)
A month after the bitterly fought election, President Barack Obama has his highest approval ratings since the killing of Osama bin Laden, according to an Associated Press-GfK poll, and more Americans say the nation is heading in the right direction now than at any time since the start of his first term.
Obama's approval rating stands at 57 percent, the highest since May 2011, when U.S. Navy SEALs killed the terror leader, and up 5 percentage points from before the election. And 42 percent say the country is on the right track, up from 35 percent in January 2009.
A majority think it's likely that the president will be able to improve the economy in his second term.
RECOMMENDED: 12 reasons Obama won and Mitt Romney lost the election
"Compared to the alternative, I'm more optimistic about government and the economy with him in office," said Jack Reinholt, an independent from Bristol, R.I., who backed Obama in 2008 and again in 2012. "I feel he has the better path laid out."
Indeed, the latest unemployment report Friday showed that US economy had added 146,000 jobs in November, pushing the jobless rate to 4-year low of 7.7 percent.
Still, four years of partisan conflict in Washington have taken a toll on the president's image.
"I'm less enthusiastic about him than the first time he was elected," Reinholt added.
---