Following Alaska serial killer's suicide, mysteries remain
Investigations revealed further details of some of the murders committed by a serial killer named Israel Keyes on Tuesday. The FBI suspects Keyes may have been involved in three additional murders.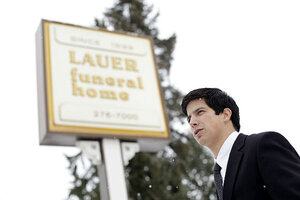 AP Photo/Young Kwak
Before Alaska serial killer Israel Keyes murdered an 18-year-old barista, he also targeted the young woman's boyfriend before changing his mind, the lead investigator in the slaying said Tuesday.
Keyes, who recently killed himself in his jail cell, abducted Koenig Feb. 1 at the Anchorage coffee stand where she worked after he climbed in the drive-thru window. He bound Koenig with zip ties, and then waited with his victim on the floor of the darkened structure, said homicide police Detective Monique Doll.
Doll said investigators reviewing the abduction caught by security cameras initially thought Keyes had Koenig on the floor to wait out anyone who might have seen him climb through the window or to wait for things to calm down.
"What we found when we interviewed Mr. Keyes was that he knew that the coffee kiosk closed at 8 p.m. and he knew that because Samantha didn't have a vehicle there, somebody was going to come and pick her up," Doll told The Associated Press. "He was waiting for her ride to come there because he intended to take that person as well."
Keyes, 34, ended up leaving with Koenig shortly before the arrival of Koenig's boyfriend, Duane Tortolani II.
Doll said she doesn't know why Keyes changed his mind about also killing the boyfriend, as he had targeted a Vermont couple he killed last year.
"I don't know why he left, but he made it very clear that, you know, that was part of the plan," she said. "It was very fortuitous for Mr. Tortolani not to have run into Mr. Keyes."
Keyes and Tortolani would have a later encounter.
Early the next morning, about 3 a.m., Tortolani saw someone in a mask standing near his truck. He confronted the person, whom Doll said was Keyes trying to steal a debit card from the pickup. Tortolani ran inside the home he shared with Koenig and her father to get his help.
Keyes, who had parked a distance from the Koenig home, was gone by the time the men came out, Doll said. Also gone was the debit card for an account Koenig shared with Tortolani.
---